The world has always been in a fragile state – to say that right now it's worse than any other time is, in fact, wrong.
There has always been famine.
There has always been war.
There has always been disagreements and conflict of sorts.
There have always been sudden accidents and dramatic changes to life in an instant.
To me, love and trust are intertwined. You cannot love something without trusting it, and vice versa.
There are many things in life that we do not know.
We have no idea what may happen tomorrow for example. Sure, we can plan, but there are always unforeseen circumstances that may arise, causing great anxiety to many.
This is why trust and love are SO important. They will get you through, no matter what turmoil or challenge you face.
This uncertainty about life is why poetry & books have such a buoyant effect on people.
Poems about trust and love
Deep diving into a book is a surefire way to calm the nervous system and reset the mind.
So too, is it a way to ground yourself and find a breath amidst the chaos. It won't erase the pain you may feel), but it will give you a much-needed break.
Or perhaps a broken heart? How to heal and move on, you may wonder?
An idea is to read poetry.
Poems heal and inspire better than anything ever seen on Netflix. Of course, they may not work for you, but they might work too.
So there's nothing to lose in giving them a go!
In this post, I share some of my poems, never before released, for your enjoyment.
Power of love
I am best friends with my husband.
I like to think many couples have this kind of relationship, where you can be lovers and friends simultaneously.
It's great for longevity in a relationship – you don't take each other too seriously, yet you deeply respect and adore each other.
I guess it depends on what your version of true love is?
Mine is the ability to be with that particular person through every hurdle.
Not just on the good days where you're both full of energy and loving every minute, but on the shit days too.
That's unconditional love right there. You love without it needing to be 'perfect' on an InstaFB reel.
Love message
I wrote this poem a week ago.
It's one of my most recent pieces of writing, and I fell in love with it as soon as I wrote it.
When you're a writer for a living, you tend to feel drawn to particular works compared to others.
This one flows nicely and has a great rhythm, I feel. And the words mean a lot.
I hope you enjoy it too.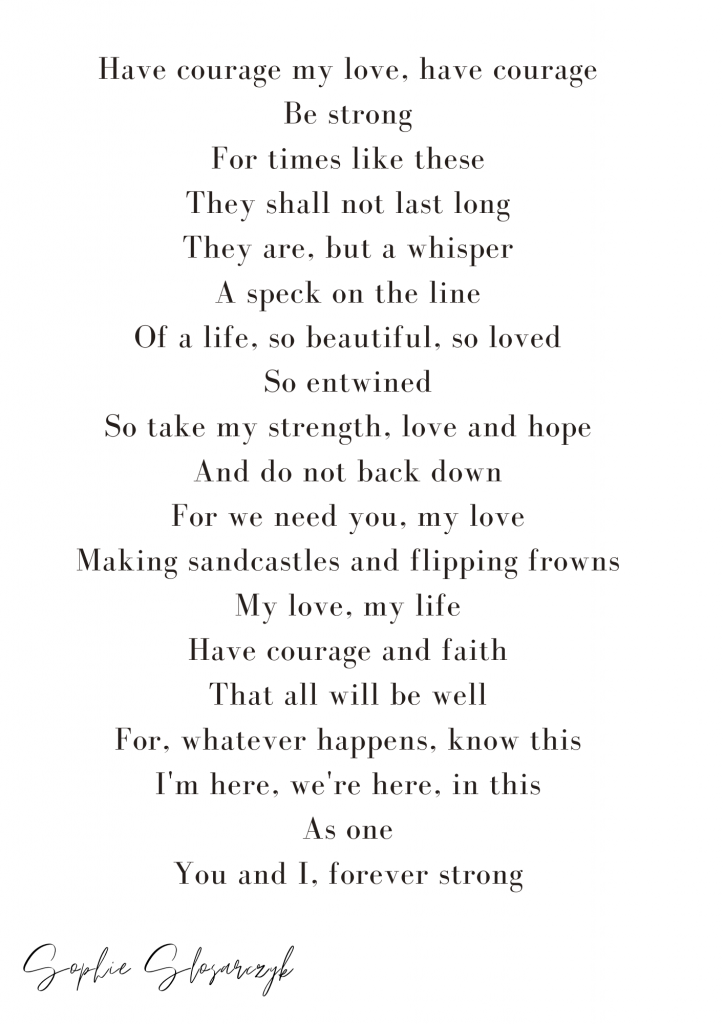 Relationship poem
A poem is a beautiful way to express and release feelings.
I find it cathartic to write, knowing that if I don't want to share it, I won't. I love poetry though so very much, both reading and writing it, and will likely continue indulging in it for the remainder of my life.
I often write about my family, my two children and my husband, because they are so precious to me.
We live simple lives, we don't overcomplicate things, and in truth, I feel so much love for them that I feel compelled to write it down, just in case, one day, it all gets taken from me (which is my biggest fear).
Real love
What is real love for you?
I would spend time thinking about this, as the concept of real love perhaps differs to reality. Many people think that lust is love when in fact, love is far more profound.
Love is commitment. Love is sacrifice. Love to me is caring so much for the other person.
Of course, it's easy to step over the line when you're so in love, as you enjoy pleasing the other person, often to the detriment of your own well-being.
This is not love when this happens; let me be clear.
This is a toxic relationship that bares no sign of hope for good times in the future. It can also become a source of infatuation.
So, all in all; love is a delicate balancing act!
Trust poems
Learning to trust is something we could all do with a bit of guidance in.
After all, life is throwing us shitballs left, right and centre, and we have no clue what's coming up next.
Cost of living crisis? War? Energy crisis? Global warming? Put a tick in all those boxes.
Yet when you trust something or someone, whether it's your family, partner, or God/the universe, you feel more held.
I can't explain it any other way. Trust means you no longer feel alone – you are supported and loved.
A lot of things require trust – the truth is if you don't trust life or trust that what you need is what you'll get, life is more burdensome.
Learning to trust things is key to building a new tomorrow.
O Lord
Have you ever had a moment of crisis where you just give up and offload everything to 'up there?'
Depending on whether you're religious, spiritual, universe led or whatever; there comes moments in life when you need to believe in something bigger.
I wanted to mention the bible as a source of words that gave me comfort during this tumultuous time I find myself in.
But other religions and belief systems – Buddhism and Hinduism- have their bits to take away and apply to life. I've not yet explored other religions, so I can't comment further.
If you're new to the bible, I recommend getting an international version (it's easier to read) and reading the psalms. They are like poetry, written in a similar style, and have real emotion in them.
For more of my poetry, take a look at this post here.
You may also enjoy this read if you struggle to trust and love in life!
I hope you enjoy this post; I love hearing from you, so feel free to drop me a comment below. Wishing you all the very best!